Make Your Lookbook Work For You Online
Lookbooks are typically print publications used by fashion retailers to show off their collections. They are built with a heavy focus on imagery that conveys both the product and the aspiration of owning the product. The images are strung together to tell a story about your products and what they emotionally evoke for you and for the customer.
Your Lookbook ensures your customer experiences the vision and value embodied in your designs, services and products. They are at their most powerful when filled with expressive storytelling and images.
Putting your Lookbook online is an obvious no brainer, but it takes more than just offering up a PDF file for a customer to download. You need to think about how a customer experiences your content. How the pages are presented, how the customer navigates between pages, and how the content interacts with the customer's emotions. An effectively presented Lookbook online can be more powerful than the original print version, one that actually gets you more customers.
Why Should I Put My Lookbook Online
This question probably makes you roll your eyes. You know that all of your customers use their digital devices constantly, using it as their primary tool for consuming content from friends, family, and businesses they engage with. So it's pretty obvious your Lookbook should also be online.
Even better, by putting your Lookbook online, you'll have the opportunity to do things that your print version can't. You can add interactive content, add calls to action that allow for spontaneous engagement, and distribute your Lookbook to where your customers hang out (Facebook, Twitter, Instagram, Pinterest, Email, and more).
Check out this example to see how powerful your Lookbook could be online.
Where to Start
The best way to start is with your existing print Lookbook. You've most likely got a PDF file of this Lookbook on your computer somewhere or on your company's server. Grab that Lookbook file and upload it to your simplebooklet account (right from the dashboard).
Your Lookbook will be automatically converted and optimized for online viewing. No coding or design required, as simplebooklet maintains the content in your Lookbook the way it was meant to be seen. In less than a few minutes you will have a microsite that's ready for you to brand and publish across multiple digital channels.
Building A Lookbook From Scratch
Don't have a current look book? That's okay. You have photos of your products, and more importantly, you understand your passion behind the products you represent. By assembling this together into a single microsite that stays focused on your collection, you can turn this content into something dynamic and engaging.
Simplebooklet makes it possible to create a multipage Lookbook from scratch with our authoring tools. With drag and drop features, you can build layouts that allow you to express your story in your own way.
Enhancing your Lookbook Content
Now that your Lookbook is online, we'll want to supercharge your pages. Most will be just fine as they are, but there are opportunities to surprise and delight potential customers with interactive enhancements that aren't possible on a printed version.
In the above example, we've taken a shopify store product and highlighted and marketed with a Lookbook format, ensuring that we communicate with a potential customer much more than we could have if we'd just left it as a static product in the shopify store. This Lookbook can also be shared so much further than the shopify store, being emailed, added to social networks, and embedded in our own blog and networked websites.
Some of the Enhancements in the Above Example
Page Narration is about putting your own personality on the page. You can describe your product to customers that you couldn't convey in the text or images. It makes your page a hybrid video experience without requiring an actual video. This can be terrific with look books because you can describe the spirit and vision of your displayed product.
Video Lightboxes are a great way to provide a richer multimedia experience without disrupting the layout and story of your pages. A customer can view a video as a lightbox that explodes out from your page and holds their attention. If you've got a video, it can be a really great way to enhance your story.
Image Lightboxes are another great way to get more product photos in front of a customer than what your print Lookbook made possible. Adding a photo button to your page will let a customer view fullscreen sized images that let them see other action or detailed shots of your products.
Embed a Product from Etsy or Shopify if you have an online store on one of these platforms. This helps trigger the impulse buy from a customer. If they can add one of your products to their cart immediately from your Lookbook, if they've viewed it from an email, on a pinterest post, or on your blog, you've been able to make a sale without requiring the customer to go to your online store.
Photos are incredibly important. Not just of your products isolated and in action shots, but also related photos that compliment the emotion and story you are trying to tell. A headshot of sunglasses paired with a photo of the beach helps evoke in your customer the idea that you need this product to enjoy such a wonderful place.
The Presentation That Impresses People
Now that you have your Lookbook online, it's time to make sure the presentation of the Lookbook enhances your customer experience. Being complimentary is important, because you don't want to distract from your product story.
Your microsite is where your Lookbook is displayed on. It's a dedicated webpage with a branded URL to your business. Think of it like the place-setting that displays the meal.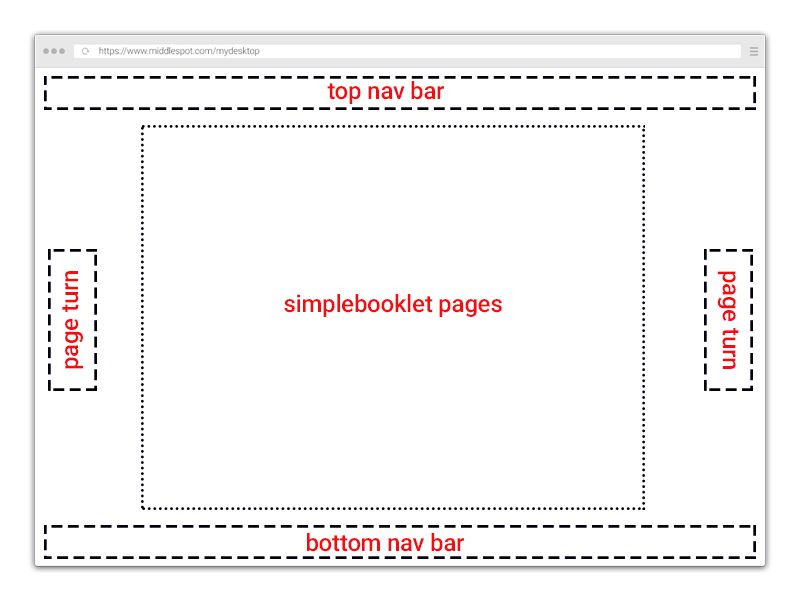 What's Important In A lookbook Microsite
Now that you know how your Lookbook fits into a microsite, it's time to look at the features that make that microsite experience impressive.
Navbars on simplebooklet can be customized to appear in a number of different layouts. You can choose on the top and bottom, just the bottom, along the top, minimized, or even have them disappear. This gives you the flexibility to decide how much supporting navigation to surround your Lookbook with.
In the above example of a modern navbar layout, you'll see the familiar hamburger menu, a branded logo, and supporting contact information along the top, while page content navigation elements are found along the bottom and sides.
Page Transitions can really change the feel of your Lookbook. It's worth trying a few different ones to see which presents your content in a way that really tells a cohesive story.
Background is the scenery that your Lookbook is presented upon. It shouldn't be overlooked as it really creates the setting for your content. There is a reason fashion shows take place in Paris, New York, London, and Milan. Your background does the same thing, setting a mood for what your story is.
Link To Your Store in the navbar is a way to give your potential customer an obvious call to action. If you sell your products online, then a link to your store, and a particular page in your store, is a must.
Table Of Contents are useful in larger Lookbook's, where you have items that might be for a particular season or customer type. Because familiarity is very important to usability online, we've made the table of contents for your Lookbook the ubiquitous hamburger menu. People everywhere recognize that as a website menu to navigate to other sections.
Reaching Customers Through Online Distribution
The great thing about a Simplebooklet microsite is it's portability. Your Simplebooklet is designed to go to the places your customers hang out, not wait around for a customer to find you.
Designed to be self-contained, your Lookbook microsite is effective at making it's pitch in the different channels online. From social feeds to email to embedded on other websites and blogs, your Lookbook gets discovered across so hundreds of channels. And because it is designed to be distributed in all these other channels, you get the added bonus of customers sharing it with their networks, which becomes a defacto endorsement of what you're promoting.
Post it to Facebook
Your Lookbook cover page looks great and is compelling. So post it to your facebook newsfeed. And do it a few times a month to keep it front and center for your social audience.
Pin it to Pinterest
Adding your Lookbook to pinterest is a great way to have it get bundled with other relevant content. You'll find your Lookbook gets pinned to boards with content that enhances and lends credibility to your content. Your Lookbook will end up getting pinned to multiple boards.
Embed it on your own existing website
Hey, this is where people actively look for your stuff. Why not make sure your Lookbook and the collection of all your marketing and communications are there and ready to be flipped?
Make it downloadable
When you save your Lookbook as a PDF on simplebooklet, it actually saves it in the right order for viewing as a PDF. Then you can save it as a mobi and epub file so it can be read on e-readers like kindle.
Add it as part of your email signature
Placing the link to your latest Lookbook in your email signature means it's available to anyone who reads your email correspondence. They can choose at anytime to open up your Lookbook and see your latest collection.
Send it to your email list
With the Simplebooklet mailchimp integration or just as a stand alone email, you'll send a rich html email that highlights the cover page and encourages your recipient to open your Lookbook.
As you can see, you don't need to spend a lot of time, money or effort to get your printed Lookbook online and distributed to your existing and potential customer. It just takes a few minutes and you'll be showing customers you value their time spent reading your content.
More Ideas
Create a Collection
Creating a collection page of all your lookbooks and even other forms of marketing communications can be a great resource to access your products.
First, it creates an easy to remember single URL to see all the products and services you offer. It's easily bookmarked and you can update it anytime.
Second, it's a useful resource for your sales and marketing team to refer back to when they are on sales calls and engaging with buyers.
Your collection can contain more than just your Lookbook. You can have product sheets, newsletters, videos, portfolios and more, all highly portable and distributable online content.
Version Your Content
Is your current Lookbook presenting multiple products and collections? You could make multiple versions of your Lookbook online to publish to multiple channels.
Say you have a summer collection for men and women, with sections on shirts, shorts, pants and accessories. What you can do is make a copy of your Lookbook on simplebooklet and then delete enough pages to make a mini catalog on just one of the product types (for example, men's summer shirts). Then you can go and promote that new derivative work across your social networks.
Instead of forcing your customer to wade through pages and pages of content, they can immediately decide if what you are offering is something they would be interested in and you grab their attention right away. It also increases the content you can put out there to build awareness.
The new sub booklet as well takes very minimal time and no additional costs to produce. And this new booklet can drive customers to discover the main catalog as well that the booklet was derived from.
Lookbooks Belong Online
If you haven't created a Lookbook or converted your print Lookbook to an online Lookbook, you are missing out on a large and ever growing segment of your customer base. The costs and time to do this are minimal and your returns from greater exposure and engagement is enormous.
Some example Lookbooks on simplebooklet