Churches using Simplebooklet
How Content Marketing Helps You Reach Your Congregation And Community
Congregations are connected. In their daily lives, they keep in touch with family through video calls, read news and watch movies on their devices, follow family, friends, and their community through social networks.
But too many churches don't make the effort to also be a part of their congregations lives in these amazing new channels. As a church, you get the opportunity to communicate, teach and share values with people who are looking for answers. And these new digital channels give you opportunities to do this in ways you haven't had the good fortune to have in the past.
Chances are your church has been sending newsletters, either physically or digitally, for a long time. Most likely, you are also printing flyers and brochures for upcoming events, programs you are running, and sign up forms for church activities. To keep your congregation and community informed, you print these communication tools (which impacts your budget pretty significantly) and distribute them online as either downloadable files or email attachments (which are difficult for people to read and have the risk of viruses).
Since this communication is so vital to having a church with a thriving congregation, you owe it to your community to improve your outreach in the digital channels of the modern congregation.
Everytime we communicate with our congregation we are teaching and guiding, through both the content and the presentation and the digital channel it is delivered. How we communicate is as important as what we communicate.
"Every time you communicate, you tell a story" (Tony Sorrentino, OX Creative). These words shifted how I think about church communications. Do we fully acknowledge that we are telling a story every time we put something in front of our people - about them, about us, or about our teachings? Here's the truth: preaching isn't just a one-man job that happens in a weekend service. We get a chance to tell the good news of God every day of the week in creative ways. Whether it's through video, graphic design, or intentionally-crafted emails, we are all telling stories every day.

Joel Gorveatte - Churchjuice
This is where a platform like Simplebooklet helps turn your communications into an engaging and influential medium.
Creating Stories That Resonate With Congregations
In marketing speak, this is called content marketing. But it really is about sharing stories that resonate with a particular audience.
Here's an example. What would you rather see from your church; another calendar of events or a series of photos and captions from the latest event. You want to see both! One communicates an upcoming event, while the second tells a story that provides both context and expectations of what an event entails.
This is your responsibility when you send out any communications from your church. You need to convey not only the message, but also the context and the value proposition (a good time, a safe environment, a welcoming community) of what belonging to your church community means.
With today's attention deficit, communicating all of this at one time isn't nearly as effective as communicating it with a constant drip of short, focused online content. Your messages are more likely to resonate with your congregation when it's short, clear, and communicated across a number of digital channels (email, social networks, and your website).
How Simplebooklet Integrates With Church Communications
Simplebooklet is all about reaching your congregation on the digital channels they hang out. When you add content (like a newsletter, a signup form, an event announcement, or just some good teachings) on the simplebooklet platform, you can distribute that content to your community through email, on social networks, from your website, as a downloadable file, and from it's own dedicated link. No need to update or create content for each unique channel, Simplebooklet does that all for you.
Social Networks Facebook, Twitter, Pinterest, Instagram. You've probably heard about all of these and most likely use one or two of them in your own daily life. Your engagement may vary, but they serve as rolling conversations that are happening in your community. Your church needs to get engaged as well in this community conversation.
Email They say email is dead, yet everyone still relies on it everyday. Most churches already have large mailing lists that they use to communicate. With simplebooklet, you can take that same content you are distributing in print and across social networks and add it to your email channels in minutes. There are no extra efforts required to update the content to fit this unique channel, Simplebooklet does it for you.
The Web Whether its on your own website, on your blog, or directly from the dedicated microsite on simplebooklet where your content is hosted (you don't even need a website to produce content on simplebooklet), your community will be able to access your content through any modern browser on any device.
Devices Simplebooklet content works on every device, making sure your content can be accessed on the devices your congregation and your community prefer.
Check out this example to see how powerful your church content could be on Simplebooklet.
Where Should You Start
Almost every church I know has a weekly, monthly, or quarterly newsletter. They print this off and hand it out during services or even mail it to their congregation. It takes time and resources to put together and can be quite expensive to print then mail to you community.
With Simplebooklet, you can leverage that work and convert that printed newsletter into an online newsletter in minutes. You convert your PDF or Doc newsletter file, then optionally add more interactive content to the pages. When the newsletter is ready, you customize the presentation to your church brand so you are building trust and authenticity with your congregation.
Newsletters are unique as well, because they are also historical content that your congregation will want to revisit. Most bloggers will tell you that they generate on average 70% of their revenue from archived posts more than a year old. And a well crafted newsletter, that contains more than just upcoming events, will get referenced over and over again for many years. That's difficult to do with a print only newsletter, but extremely easy to do with an online archive of all your newsletters.
Leveraging Your Current Content
Your church produces an enormous amount of content. From sermons delivered during services, missions and education sessions, to community outreach programs. You have content ranging from sign up forms to event flyers to powerpoint presentations to lesson sheets to archives.
All of this content can be turned into informative, engaging content you can share through Simplebooklet. One thing is for certain, people crave access to more content through their devices, and you have a lot that often just ends up sitting in a file folder on some computer in your church office.
You can start small, here are a few examples:
Event Flyers Take a PDF or doc file of your flyer and turn it into a simplebooklet microsite. Then post it to your social feeds and send it out in your next email blast.
Services Record your next service as a video and save it to Youtube. Then add that video to a simplebooklet microsite with some additional photos and content and create an archive collection for your congregation to reference. Many times people like to know they can refer back to a particularily meaningful service.
Outreach Missions Create a simplebooklet with the photos and descriptions of your outreach activities in your community. These presentations can be a great way to bring the good you do to your whole congregation. With a unique weblink, you don't need to worry about webhosting or getting IT involved, you can get this content out quickly.
Vision and Mission Create a simplebooklet that can easily be shared that highlights your vision and mission. A quick, concise presentation of what you are all about works great for recruiting new people to your congregation through social media. It's less overwhelming than having to read through an entire website.
Profiles People want to know about you and your leadership. Creating simplebooklet profile cards help build trust and familiarity with your staff. It's like baseball cards for your team.
Resources You have many, many pieces of printed brochures, flyers, and guides that are probably just collecting dust in some corner. This is valuable information that your congregation would like access to. You can find the original file on your hardrive and upload it to it's own simplebooklet microsite.
Prayer Guides Another great source of staying relevant to your congregation. Sending small tidbits of guidance for prayer through social media and in email can have a huge impact. Again, this is about just a few pages focused on one outcome. In today's short attention span audience, this type of on message communication is just what your community wants.
Making Content More Engaging
Now that your content is online and you are getting comfortable with this new engagement, you'll want to step up your game. Most will be just fine as they are, but there are opportunities to surprise and delight with interactive enhancements that aren't possible on printed communications.
Some of the Enhancements in the examples on this page.
Page Narration is about putting your own personality on the page. You can describe your content to your audience that you couldn't convey in text or images. It makes your page a hybrid video experience without requiring an actual video. This can be terrific because you can describe the spirit and vision of your content and recreate the experience that you are right beside them guiding them through your content.
Video Lightboxes are a great way to provide a richer multimedia experience without disrupting the layout and story of your pages. Your audience can view a video as a lightbox that explodes out from your page and holds their attention. If you've got a video, it can be a really great way to enhance your story.
Image Lightboxes are another great way to get more photos in front of your audience than what your print content made possible. Adding a photo button to your page will let your audience view fullscreen sized images that let them see other action or detailed shots of your message.
Forms are a great way to trigger engagement with your congregation. Your online content starts improving the productivity of your communications without having to build extensive or complicated online content.
The Presentation That Impresses People
Now that you have your content online, it's time to make sure the presentation of this content enhances your congregations experience. Being complimentary is important, because you don't want to distract from your story.
Your microsite is where your content is displayed on. It's a dedicated webpage with a branded URL to your church. Think of it like the place-setting that displays the meal.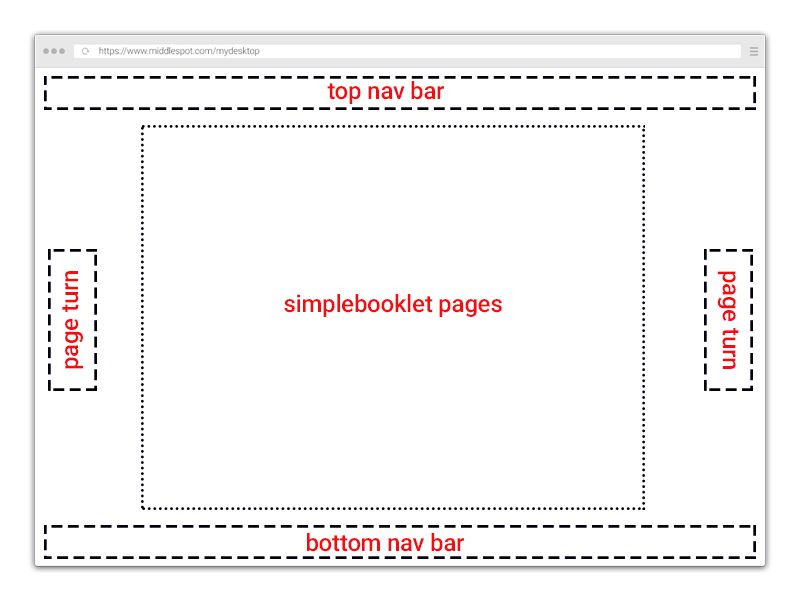 What's Important In A lookbook Microsite
Now that you know how your content fits into a simplebooklet microsite, it's time to look at the features that make that microsite experience influential.
Navbars on simplebooklet can be customized to appear in a number of different layouts. You can choose on the top and bottom, just the bottom, along the top, minimized, or even have them disappear. This gives you the flexibility to decide how much supporting navigation to surround your content.
In the above example of a modern navbar layout, you'll see the familiar hamburger menu, a branded logo, and supporting contact information along the top, while page content navigation elements are found along the bottom and sides.
Page Transitions can really change the feel of your content. It's worth trying a few different ones to see which presents your content in a way that really tells a cohesive story.
Background is the scenery that your content is presented upon. It shouldn't be overlooked as it really creates the setting for your content. Your background does the same thing, setting a mood for what your story is.
Link To Your Site in the navbar is a way to give your congregation and larger community an obvious call to action.
Table Of Contents are useful in larger simplebooklets. Because familiarity is very important to usability online, we've made the table of contents for your microsite the ubiquitous hamburger menu. People everywhere recognize that as a website menu to navigate to other sections.
Reaching Your Congregation Through Online Distribution
The great thing about a Simplebooklet microsite is it's portability. Your Simplebooklet is designed to go to the places your congregation hang out, not wait around for someone to find you.
Designed to be self-contained, your microsite is effective at telling it's story in multiple different channels online. From social feeds to email to embedded on other websites and blogs, your microsite gets discovered across hundreds of channels. And because it is designed to be distributed in all these other channels, you get the added bonus of your audience sharing it with their networks, which becomes a defacto endorsement of what you're communicating.
Post it to Facebook
Your microsite cover page looks great and is compelling. So post it to your facebook newsfeed. And do it a few times a month to keep it front and center for your social audience.
Pin it to Pinterest
Adding your content to pinterest is a great way to have it get bundled with other relevant content. You'll find your microsite gets pinned to boards with content that enhances and lends credibility to your content. Your simplebooklet will end up getting pinned to multiple boards.
Embed it on your own existing website
Hey, this is where people actively look for your stuff. Why not make sure your simplebooklet and the collection of all your communications are there and ready to be flipped?
Make it downloadable
When you save your content as a PDF on simplebooklet, it actually saves it in the right order for viewing as a PDF. Then you can save it as a mobi and epub file so it can be read on e-readers like kindle.
Add it as part of your email signature
Placing the link to your latest microsite in your email signature means it's available to anyone who reads your email correspondence. They can choose at anytime to open up your simplebooklet and see your latest story.
Send it to your email list
With the Simplebooklet mailchimp integration or just as a stand alone email, you'll send a rich html email that highlights the cover page and encourages your recipient to open your microsite.
As you can see, you don't need to spend a lot of time, money or effort to get your printed communications online and distributed to your existing and potential congregation. It just takes a few minutes and you'll be showing parishoners you value their time spent reading your content.
More Ideas
Create a Collection
Creating a collection page of all your stories and even other forms of communications can be a great resource to access your microsites.
First, it creates an easy to remember single URL to see all the communications and services you offer. It's easily bookmarked and you can update it anytime.
Second, it's a useful resource for your team to refer back to when they are on mission and engaging with the community.
You can create multiple collections which can contain unique curated content and be shared with specific audiences.
Your Stories Belong Online
If you haven't created online content or converted your print content to be online content, you are missing out on a large and ever growing segment of your congregation and larger community. The costs and time to do this are minimal and your returns from greater exposure and engagement is enormous.
Some example church communications on simplebooklet